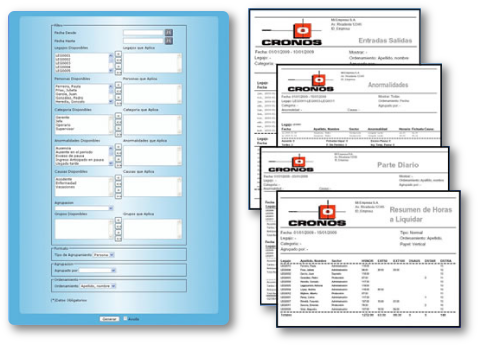 REGISTRATIONS REPORT
Clock Registrations Report, without taking into account manual processes or edits. You visualize all registrations read from attendance clocks or valid files, excluding those manually entered by an operator.
View exmaple .pdf
ENTRIES AND EXITS REPORT
Report that shows employee registrations, identifying entries and exits. It can be requested by date, to evaluate presentism, or by employee, to see the history of clock registrations with the purpose of presenting it to the employee or having him sign it in conformity.
View exmaple .pdf
ABNORMALITY REPORT
Report that shows system-detected employee registration issues.

Some of its uses can be:
Analyze absenteeism and take necesary action (call personnel to cover absent positions, send physician to visit absent employees, find out reason for absence, etc.).
Trace a person or sector during a specific time period (two weeks, a month, etc.).
Evaluate most frequent justifications for absences, late arrivals or desired abnormality, so as to define strategies to modify the situation.
And much more …
View exmaple .pdf
DAILY SUMMARY REPORT
A hybrid between the "Entries & Exits" Report and the "Abnormalities" Report. The goal is to view both presentism as well as abnormalities of the date in question. This report also shows the employee's work schedule, so that the viewer has all necessary information to interpret employee as well as company situations at any given time. It is the ideal report for a supervisor that is not in touch with the control system.
View exmaple .pdf
INDIVIDUAL RECORD REPORT
Report that shows pay hours and concepts (worked days, normal hours, 50% overtime hours, night hours, etc.). The report is organized by person, showing in a specific period (week, 2 weeks, month, etc.) detailed clock registrations and concept payments by date, with the corresponding totals at the end of the period.
View exmaple .pdf
PAYROLL REPORT
This report, which also shows hours and concepts to pay, gives us the totals for the system calculated concepts in a specified period, for an individual, group of people or company sector, with the purpose of:
Evaluating or trialing month or bi-week payroll settlements
Quantifying hours consumed by a specific area, in a given time period
Analyzing overtime hours in a month, 2-week or any other desired period
And much more …
View exmaple .pdf